Fender Jaguar 50 Aniversario Usa Con Estuche
Descripción:
FENDER JAGUAR USA 50TH ANIVERSARIO
MADE IN USA

Fender celebrates 50 years of the iconic Jaguar.
Fender's 50th Anniversary Jaguar guitar takes you back to 1962, when they introduced an unusual new guitar that paired the sleek Jazzmaster® body style and elaborate control layout with a shorter scale and smaller, brighter pickups with more output. The resulting Jaguar was the fourth and last of Fender's original lineup of standard electric guitars. Perfectly matched to the early-'60s renaissance in design modernism, the Jaguar gradually acquired a fascinating pedigree quite unlike that of any other Fender guitar. A chromed-out, surf-rock staple of the 1960s, it found new life from the mid-1970s-on as a subversively offbeat alternative axe wielded by punk, post-punk, grunge and alt-indie guitar heroes and anti-heroes alike.

The U.S.-built 50th Anniversary Jaguar celebrates that vivid history and combines old and new into the finest of all Jaguar guitars. Highly distinctive features include the classic 24" scale length, a new one-degree neck-angle-pocket cut that improves pitch, a re-positioned tremolo plate that increases bridge break angle and sustain, and specially designed hot Jaguar single-coil neck and bridge pickups that deliver fatter tone and more output (once again framed by the model's classic notched metal "claws"; a hum-reducing innovation only found on the Jaguar). Accessories include a deluxe brown case, strap, cable and a set of flatwound strings.
Features
Alder body

24" Scale maple neck, bound rosewood fretboard, 9.5" radius, 22 medium jumbo frets

Special Design Hot Jaguar® Single-Coil bridge pickup

Special Design Hot Jaguar® Single-Coil neck pickup

Pickup Switching: 2-On/Off slide switches, one for each pickup

Controls: Lead Circuit: Volume, Tone. "Rhythm" Circuit: Volume, Tone

Special Electronics: 2-Position Tone Switch

Vintage Style Floating Tremolo with tremolo lock button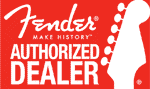 Todos los precios están calculados en 1 pago.